• Jewelry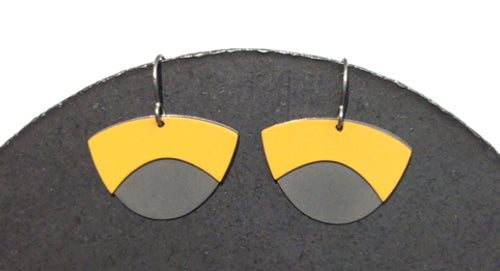 Before there was a Click! Design That Fits, Click! creative director Frances Smersh was primarily a jewelry designer. Recently Frances felt she needed to create new work, and turned to Click! assistant manager Michelle Ting to help realize her ideas into physical pieces. The results of this collaboration will be revealed this Saturday with a special event at Click!.  The new collection is titled "Nos Familles" (Our Families). Michelle talks about the process of working together, and the naming of the collection: "Work begets work" is a mantra I like to keep in the studio space. For us, our work started with...
---
• Jewelry
Click! is now an official drop off location for the Women's Shelter Jewelry Project. Bring your unwanted jewelry in any condition (even broken pieces, or earrings with lost mates) to Click!, and members of the Seattle Metals Guild will love them up to a condition worthy to be gifted to women in Seattle area women's shelters and the YWCA's Dress for Success program.  Saturday November 4th will be our first official collection event (coordinated with the launch of a new collection of our own Smersh Design Jewelry), though you can drop pieces at any time.  
---
• Jewelry • Konzuk • West seattle
The cornerstone of Click! has always been jewelry: co-owner Frances Smersh's designs are at the heart of our collection of contemporary goods. In recent years we've expanded our selection, and this month we're going even further: spotlighting six jewelry designers as our featured artist(s) for the months of November and December. Launching on West Seattle Art Walk Thursday November 10: Chikahisa Broken Plates Rain City Forge (expanded selection) Karen Konzuk (expanded selection) Zoë Comings Catherine Grisez We are expecting several of the artists to be in attendance at the opening party Thursday November 10, 6-9pm, and we hope you will be there...
---
• Accessories • Events • Jewelry • Product Spotlight • Trunk Shows • Wedding Jewelry
[Shared, with permission, from Karen Konzuk's blog] Copy & image credit: Karen Konzuk I have recently received compelling stories from customers as to why they have chosen our concrete bands to symbolically represent their marriage. It has me thinking that it might be beneficial if I share some information about concrete. Perhaps the earliest known occurrence of cement was twelve million years ago (according to Wikipedia). It is amazing to think that a material that was discovered millions of years ago is still being used today, and not to mention innovatively! ie. jewelry! Concrete is a sustainable and affordable resource which...
---
• Accessories • Gifts • Jewelry • Product Spotlight • Trunk Shows • Wedding Jewelry
We. Love. Karen. Konzuk. Karen is a PNW-based jeweler working out of Vancouver, BC. She's known for her modern, minimal designs featuring industrial materials like stainless steel and concrete, often juxtaposed with precious metals and diamonds. We've carried her signature lines of commitment rings for years, and many of you have celebrated your engagements & weddings with her rock-solid designs. We're thrilled to share that on Saturday, April 16th from 10-5p, we're holding a launch of Konzuk's Stellar collection, featuring inlaid concrete & diamond dust (translation: sparkling, shimmering concrete). Along with her other jewelry collections (which feature coal black concrete and ombre concrete spheres), she will be bringing her...