• acoustic • art walk • father's day • gramophone • iphone • locally made • made in Seattle • salv.co • speaker • west seattle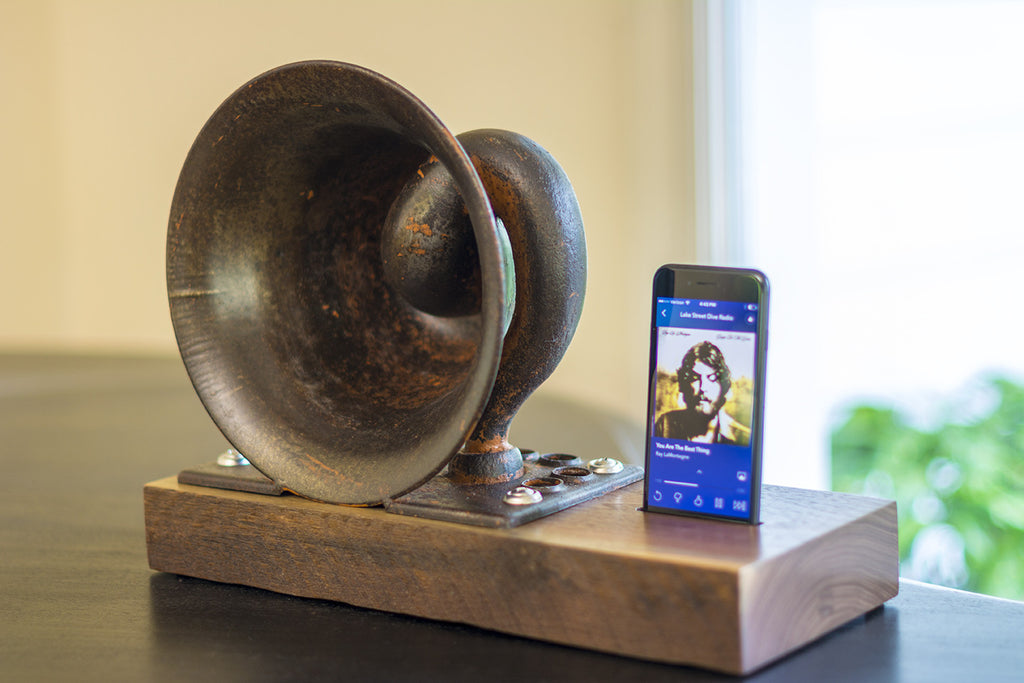 West Seattle local Fritz Rud pairs salvaged vintage equipment with his own custom woodworking to create sculptural objects for listening to music on your phone. They sound alarmingly good – better than a lot of bluetooth speakers on the market – and look even better. The horns come from a variety of vintage speaker cabinets, gramophones, and other curios. We caught up with Fritz to hear his thoughts on process and inspiration:   How would you describe what you make? Custom passive amplification for hand-held devices.   Can you tell us about your favorite piece in the current collection? Swinger! It just...
---
• Kari Gran • locally made • made in Seattle • Natural skin care • west seattle
Kari Gran is a local West Seattle gal who has turned her personal obsession with natural skin care into a simple, clean product line. Meet her at Click! this Saturday, June 3rd 2–6pm where you can sample her creations: concoctions that clean, tone, and protect your skin, and a collection of natural lip balms for the protection and care of your lips.    We caught up with Kari to hear about what she makes, how she makes it, and the joys of living in the neighborhood:   How would you describe what you make? We color a bit outside the lines of the traditional beauty industry. Most products...
---
• bitter • bitters • cocktail • Define Your Space • handcrafted • lavender • made in seattle • Product Spotlight • scrappy's bitters • seattle • valentines
Scrappy's Bitters is a Seattle-based company creating delicious, inventive bitters that transform cocktails and sparking water alike. We love this local company, and especially love that they freely share a great collection of cocktail recipes on their website. Here's one submitted by Tavern Law, a speakeasy in Capitol Hill, which highlights their original lavender bitters. Maybe impress your Valentine by masterfully mixing a delicious cocktail? Start practicing! DR. GIRLFRIEND 1 1/4 OZ GIN 3/4 OZ GRAPEFRUIT JUICE 1/2 OZ APEROL 1/2 OZ ST. GERMAIN 1/2 OZ LEMON JUICE 1 DASH LAVENDER BITTERS MARTINI GLASS, LEMON TWIST